Our bakery logistics products are our longest standing product lines. Drader has 75 years of experience in the bakery industry. Our excellent service is matched with a keen understanding of distribution and logistics.
Drader is the only producer of the Drader Carrier, a sturdy bakery delivery tray that stacks 3-to-1 and is attractive for a retail environment. Drader Bakery Logistics is your one-stop shop for Bakery Carriers, Bakery Baskets, Bakery Dollies and Bakery Hand Trucks.
BREAD Carriers / BAKERY Carriers
For 75 years, bakeries have counted on Drader Bakery logistics to satisfy their retail bakery needs in small, medium or large bakery operations across Canada and, now, into the United States.
Satisfying retail bakery needs with custom-made bakery logistics.
Baked goods transportation and organization made simple.
The perfect complement to our Bakery Carrier.
Drader Dough Bins & Lids are highly durable, and made from Food Grade high-density polyethylene.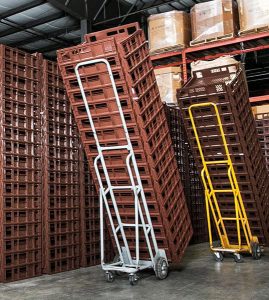 Customization options that range from branding your plastic product to changing its ergonomics.